WORLD PRESS FREEDOM DAY - 3RD MAY

In 1993 the United Nations designated the 3rd of May, a day for raising international awareness of the importance of freedom of the press and to remind governments globally of their duty to respect and uphold the right to freedom of expression enshrined under Article 19 of the Universal Declaration of Human Rights. The 3rd May is the anniversary of the Declaration of Windhoek, a statement of free press principles put together by African newspaper journalists in 1991.

Since 1997,
UNESCO
has conferred the
UNESCO/Guillermo Cano World Press Freedom Prize
on a deserving individual, organization or institution that has made an outstanding contribution to the defence and/or promotion of press freedom anywhere in the world, especially when achieved in the face of danger. The prize is awarded based on the recommendation of an independent jury of 14 news professionals.
The Prize is named in honour of Guillermo Cano Isaza, a Colombian journalist who was assassinated in front of the offices of his newspaper, El Espectador, in Bogotá, on 17 December 1986. Cano's writings had offended Colombia's powerful drug barons.
UNESCO also brings together media professionals, press freedom organisations and UN agencies on this day to assess the state of press freedom worldwide and discuss solutions for addressing challenges. Each conference is centered around a theme related to press freedom, including good governance, media coverage of terrorism, impunity and the role of media in post-conflict countries.
World Press Freedom - The Prize Winners Are:
2008: Lydia Cacho Ribeiro, Mexico - UNESCO LINK
Lydia Cacho Ribeiro worked for the newspaper Novedades de Cancún and wrote articles about the prostitution of Cuban and Argentine girls in the city. In 2003, Cacho wrote articles on the sexual abuse of minors for the newspaper Por Esto including a note on a girl abused by a local hotel owner. Cacho then wrote the book Los Demonios del Edén (Demons of Eden) in which she accused Jean Succar Kuri of being involved in a ring of child pornography and prostitution, based on official statements from his alleged victims and even a video of him (filmed with hidden camera). The book mentions important politicians as Emilio Gamboa Patrón and Miguel Ángel Yunes as involved, and mentioned Kamel Nacif Borge, a Puebla businessman, of protecting Succar Kuri.


Nacif Borge sued Cacho for defamation in Puebla, and a group of policemen of the state illegally arrested her and extradited her from one state to another. She said she didn't know the reason for her arrest since she hadn't received a subpoena before. She paid a fine and was freed.
On February 14, 2006, several telephone conversations between Nacif Borge and Mario Marín, governor of the state of Puebla, were revealed by the Mexico City daily La Jornada, creating a media frenzy. In these conversations, before Cacho's arrest, Marín and Nacif Borge discussed putting Cacho in jail as a favour, and having her beaten and abused while in jail to silence her.
On 29 November 2007, the Supreme Court ruled 6 to 4 that Marín had no case to answer in Cacho's arrest, jailing and harassment, after which the United Nations Human Rights Council advised her to leave the country and offered her political asylum, legal assistance, and access to international courts.
While being held, Cacho was granted the Premio Francisco Ojeda al Valor Periodístico (Francisco Ojeda Award for Journalistic Courage). By May 2006, Cacho had taken the cause of the unsolved murders in Ciudad Juárez as a call to action against impunity of abuse of women in Mexico. What is an ongoing horror abroad, the chronic discovery of murdered women whose corpses are discovered in repeated patterns of abuse, rape, mutilation and are discarded as offal in pathetic scenes in the desert and urban surroundings of Ciudad Juárez. Young women from factories are said to be helpless in their need for public transportation. This is a common pattern for these women's deaths.
2007: Anna Politkovskaya, Russia (posthumous award) - UNESCO LINK
Anna Stepanovna Politkovskaya was a Russian journalist and human rights activist well-known for her opposition to the Chechen conflict and Russian president Putin. Politkovskaya made her name reporting from lawless Chechnya, where many journalists and humanitarian workers have been kidnapped or killed. She was arrested and subjected to a mock execution by Russian military forces there, and she was poisoned on the way to Beslan, but survived and continued her reporting. She authored several books about Chechen wars as well as Putin's Russia and received numerous prestigious international awards for her work. She was shot dead in the elevator of her apartment building on October 7, 2006. Politkovskaya was a citizen of both the United States of America and the Russian Federation.
Putin's Russia: Life in a Failing Democracy (2004) -
Politkovskaya describes an army in which conscripts are tortured and hired out as slaves. She described judges who are removed from their positions or brutally assaulted on the street for not following instructions "from above" to let criminals go. She describes particular areas in Russia dominated and operating under insensitive companies or cold oligarchs that resemble brutal mafia bosses, with ex-military and special services personnel to aid them. She condemns routine kidnappings, murders, rape, and torture of people in Chechnya by Russian military, exemplified by Yuri Budanov. She mentions the decayed state and minimally financed conditions of the Russian Pacific Fleet and nuclear arsenal in Vladivostok. She describes the persistence of the infamous Moscow Serbsky Institute of psychiatry and Dr. Tamara Pechernikova, who was notorious for torturing Soviet dissidents in "psikhushkas" of 1960s and 1970s, often using drugs such as haloperidol. Politkovskaya accuses Vladimir Putin and FSB of stifling all civil liberties and promoting corruption to further the establishment of an authoritarian regime, but tells that "it is we who are responsible for Putin's policies" in the conclusion:
"Society has shown limitless apathy... As the Chekists have become entrenched in power, we have let them see our fear, and thereby have only intensified their urge to treat us like cattle. The KGB respects only the strong. The weak it devours. We of all people ought to know that."
A Russian Diary: A Journalist's Final Account of Life, Corruption, and Death in Putin's Russia (2007) A Russian Diary was made up of extracts from her notebook and other writing, in which she describes the poisoning on the plane to Rostov-on-Don, on the way to Beslan and the worsening political situation in Russia. She was hit 'while translation was being completed and final editing had to go ahead without her help.

2006:
May Chidiac
, Lebanon-
UNESCO LINK
May Chidiac (born 1964) is a Lebanese Christian Maronite journalist. Chidiac is a television journalist at the Lebanese Broadcasting Corporation, where she was also one of the station's main television anchors until the assassination attempt on her life. She was one of the few critics of Syria's hegemony over Lebanon. Syria kept troops stationed in Lebanon even after the end of the Lebanese Civil War and the Taif accords which stipulated that Syria withdraw from Lebanon. Under heavy American and international pressure, Syrian troops withdrew in April 2005. On the day she was nearly killed, she had hosted a talk show in which she criticized Syria's continuous meddling in Lebanon's affairs and voiced fears over further violence ahead of the UN report on the death of the former prime minister, Rafik Hariri.
*

2005: Cheng Yizhong, China - UNESCO LINK
As editor of Nanfang Dushi Bao (Southern Metropolis Daily) Mr Cheng, 40, broke new ground in Chinese journalism. His editorial independence and professional know-how helped turn his paper into one of the most successful dailies in the country, publishing articles revealing the SARS epidemic and a case of death in a Canton police station. Imprisoned for five months with two of his Nanfang Dushi Bao colleagues, Yu Huafeng and Li Minying, Mr Cheng was released in August 2004. While no formal charges were laid against him, he has been barred from resuming his professional activities.

*


2004: Raúl Rivero, Cuba - UNESCO LINK
Raúl Rivero Castañeda is a Cuban poet, journalist, and dissident. In his youth, he was an ardent follower of Fidel Castro and the Cuban Revolution. He was among the first generations of journalist to graduate after the triumph of the Revolution. In 1973-1976, he was the chief correspondent of the official Cuban press in Moscow. He also served as chairman of the pro-regime National Union of Writers and Artists. On 2 June 1991, he signed the so-called "letter of the 10 intelletuals", a petition asking for the liberation of political prisoners and holding of democratic elections. Since then, Raúl River has been an outcast in Cuban society. In 1995, he founded Cuba Press, and became active in the movement of independent journalism, publishing his works in newspapers in the US and other countries. In 2003, Rivero was charged with "acting against Cuban independence and attempting to divide Cuban territorial unity", as well as with writing "against the government", organising "subversive meetings" at his home, and collaborating with US diplomat James Cason. Rivero was convicted and sentenced to twenty years imprisonment. He spent his first 11 months in a tiny one-man cell with no windows or any contact with the outside world. In November 2004 he was released following international pressure on Cuba and subsequently relocated to Spain.
The arrest of Rivero was defended by Cuban writer and culture minister Abel Prieto in 2006. According to Prieto, Rivero "was not arrested for his views, but for receiving US funding for his collaboration with a country that has besieged our island." Raúl Rivero has asserted, in prison interrogations as well as in public, that all funds received consisted of fees for his articles, paid by the publishing media, not by governments or political organisations.
2003:
Amira Hass
, Israel -
UNESCO LINK

Amira Hass is an Israeli journalist and author, mostly known for her columns in the daily newspaper Ha'aretz. She is especially famous for living in the West Bank and Gaza Strip and reporting on events regarding Palestinians in the Israeli-Palestinian conflict.
Early in her career, she travelled widely and worked in several different jobs. Frustrated by the events of the First Intifada, she began her journalistic career in 1989 as a staff editor for Ha'aretz and started to report from the Palestinian Territories in 1991. As of 2003, she is the only Jewish Israeli journalist who lives full-time among the Palestinians, in Gaza from 1993 and in Ramallah from 1997. Her reporting is often sympathetic to the Palestinian point of view and generally critical of Israeli policy towards the Palestinians. Her reportage of events, and her voicing of opinions that run counter to both official Israeli and Palestinian positions has exposed Hass to verbal attacks, and opposition from both the Israeli and Palestinian authorities.

2002:
Geoffrey Nyarota
, Zimbabwe - UNESCO LINK
Geoffrey Nyarota is an award-winning Zimbabwean journalist and author. He is the managing editor of thezimbabwetimes.com, an online newspaper. His first book, Against the Grain, Memoirs of a Zimbabwean Newsman, was published by Zebra Press of South Africa in 2006. He started his working life as a teacher because, as he has explained, "In colonial Rhodesia the only job open to educated Africans was teaching."
However, when The Herald began hiring black trainees, he seized the opportunity and was contracted.
In 1983, he was appointed editor of the country's second largest newspaper, The Chronicle, based in Bulawayo. It was here that he cemented his reputation as tireless investigator of government corruption, exposing the so-called "Willowgate scandal" in 1988 linking high officials with fraud and corruption at the Willowvale Motor Plant. The Chronicle's coverage of the scandal -- it was the only Zimbabwean paper to carry anything about it -- lead to the resignation of four government ministers and the suicide of a fifth. It also earned Nyarota the disapproval of President Mugabe, who at the time described him as "overzealous," and subsequently cost him his job at The Chronicle (the management told him he was being removed "for his own safety.")
For the following six years he ran journalism courses across southern Africa before launching the Daily News in March 1999, Zimbabwe's first truly independent newspaper. As editor of the Daily News he was arrested six times. He survived an assassination attempt in 2000 but the newspaper's printing press was destroyed in a bombing incident in 2001.
On 30 December 2002 Nyarota was mysteriously fired as editor of the Daily News. A few days later he fled to South Africa and, later, to the United States, where he was awarded a fellowship at the Nieman Foundation for Journalism at Harvard University. The Daily News was shut down by the government in September 2003. http://www.un.org/events/pressday/2006/nyarota.html
*


2001: U Win Tin, Myanmar - UNESCO LINK
U Win Tin (born March 12, 1929) is being held prisoner in Burma (Myanmar) because of his senior position in the National League for Democracy (NLD) and for his writings. Arrested in July 1989, he has spent the last 19 years in prison. U Win Tin is serving a 20-year sentence on charges including "anti-government propaganda."
One of the reasons for his detention is his attempt to inform the United Nations of ongoing human rights violations in Burmese prisons. At 76 years of age, he is in a poor state of health, exacerbated by his treatment in prison, which has included torture, inadequate access to medical treatment, being held in a cell designed for military dogs, without bedding, and being deprived of food and water for long periods of time.
Since the start of 2006 he has not been able to receive visits from the International Committee of the Red Cross (ICRC).
U Win Tin marks 19 years in prison - 7 July 2008

2000: Nizar Nayyouf, Syria - UNESCO LINK
Editor-in-chief of the Sawt al-Democratiyya (The Voice of Democracy), published by the Committee for the Defence of Democratic Freedom in Syria (CDF), and a contributor to the Al-Hurriya weekly, Nayyouf has been in prison since January 10, 1992. He was sentenced to ten years of forced labor for belonging to the banned CDF and for disseminating "false" information. He was released from prison on 7 May 2001 after nine years in detention. His release, granted by President Bashar-al-Assad, coincided with the Pope's visit to Syria. The journalist was initially held under house arrest, but following international pressure was allowed to travel to France for medical treatment in July of that year. He was granted political asylum in 2002.

While in prison, Nayouf was severely tortured, leaving him partially paralysed and nearly blind. He also suffered from an array of diseases - lymphatic cancer, liver disease, dermatitis and ulcers. He is still being treated for a cancer developed in prison. His remaining family in Syria continues to be harassed.
*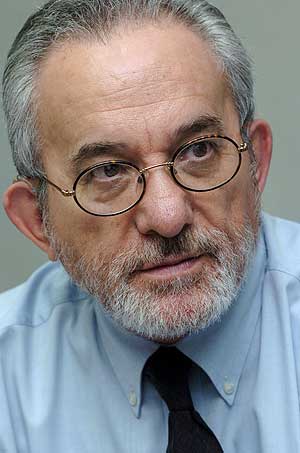 1999: Jesús Blancornelas
, Mexico -
UNESCO LINK
Jesús Blancornelas (b. 1936, San Luis Potosí – d. 23 November 2006, Tijuana) was a Mexican journalist. In 1960 he moved to Tijuana, Baja California, where, in 1977, he founded the weekly newsmagazine ABC de Tijuana and, in 1980, a successor publication called Zeta which is still published today. The brand of investigative journalism practiced by Blancornelas and his colleagues brought attention to corruption among local politicians, the burgeoning power of drugs gangs, particularly the Tijuana Cartel, and the frequent connections detected between the two. He was the victim of several attempts on his life, including one on 27 November 1997 that left him critically injured and his bodyguard dead. Blancornelas died in Tijuana on 23 November 2006 from complications caused by stomach cancer.
1998:
Christina Anyanwu
, Nigeria -
UNESCO LINK
Christina Anyanwu (b. 1951 in Ahiara in Imo State) is a Nigerian journalist. In May 1995, while working as the editor-in-chief of the Lagos-based The Sunday Magazine, she was arrested following the publication of a story about a failed coup d'état against the government of Sani Abacha on 1 March. She was prosecuted in camera by a military court and sentenced to life imprisonment on 4 July 1995, reduced to 15 years in October of that year. While being held in deplorable conditions in Kaduna prison, she contracted malaria and lost her left eye.
On 3 May 1998 she was awarded UNESCO's Guillermo Cano World Press Freedom Prize; she was released from prison the following June. In the April 2007 general election, she was elected to the Senate, representing the Owerri district for the People's Democratic Party.
*
1997:
Gao Yu
, China -
UNESCO LINK
Gao Yu began her career in 1979 as a reporter for the China News Service. In 1988 she became deputy editor-in-chief of Economics Weekly, run by dissident intellectuals. She also worked as a freelance journalist for several newspapers in China and Hong Kong. In November 1988, she published an article in Hong Kong's Mirror Monthly which the Mayor of Beijing called the "political programme" of the "turmoil and rebellion." He labelled Gao Yu an "enemy of the people." She was detained in 1989 following the Tiananmen protests and released 14 months later because of health problems. She was arrested again on October 2, 1993 and sentenced in November 1994 to six year imprisonment for "leaking state secrets."